Jul 26
New Spa Menu Infuses Culinary Elements at Casa Velas in Puerto Vallarta
Treatments Infused with Local Herbs and Botanicals to Detox, Firm, Sooth and Heal the Body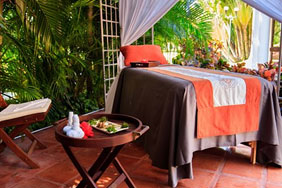 Puerto Vallarta, Mexico (July xx, 2017) - Offering spa treatments infused with a variety of culinary elements, Spa Casa Velas introduces new culinary additions to its menu. Showcasing a variety of treatments infused with herbs and botanicals like cloves, horsetail, grapes and cacao plucked from the resort's onsite botanical garden, each treatment is designed to detox, firm, sooth or heal the body.

The new culinary additions to the Spa Menu include:
Organic White Tea Facial (50 min. / $140 USD)
With unique active ingredients like white tea extract and oils from cashew, sunflower seeds and soy beans, this organic anti-oxidant, anti-aging and anti-pollution treatment leaves the face feeling fully hydrated.
Citrus Facial – (80 min. / $170 USD)
Made with 100% Vitamin C essence, this facial stimulates the production of active collagen to renew the skin's firmness and elasticity – repairing skin exposed to sun damage and pollution.
Neuro Aroma Candle Massage – (80 min. / $165 USD)
Designed to balance the interior and exterior harmonies of the body, this massage works on the meridians of the body with a combination of digital pressure and smooth manipulations. Candle aroma options include: lavender, rose, passion fruit, or vanilla.
Casa Velas Herbal Ritual – (80 min. / $170 USD)
Filled with aromatic herbs and botanicals such as orange peel, cloves, bay leaves and horse tail, the compressions of this spiral healing technique will sharpen the senses.
After Sun – (50 min. / $140 USD)
This citrus and aloe vera hydration treatment helps the skin recuperate after long periods of sun exposure to reduce the after effects of peeling.
À La Carte Exfoliation – (50 min. / $135 USD)
The perfect all-around treatment, personalized body cleansing options, aromas and textures will leave the body soft and silky. Options include: the antioxidant Vitamin C, firming bamboo, or energizing cacao.
Citrus, Grape or Chocolate Wraps – (50 min. / $140- $170 USD)
These body wrap treatments use natural ingredients, like honey and shea butter, mixed with citrus, grapes and cacao to protect skin from dryness and premature aging, restoring skin damaged by free radicals and stress helping skin release endorphins and stimulating physical and emotional wellbeing.
Casa Velas offers more than 60 holistic spa treatments, based on thousand-year-old regional healing practices found locally and globally. Each inspired spa treatment is designed to revitalize and relax the body and soul. Treatments found at the resort spa include: massage, aromatherapy, reflexology, equalizing treatments, extreme anti-aging facials, lymphatic drainage and our sumptuous hydrotherapy circuit. In additional, guests can enjoy services á la carte or ask about the comprehensive head-to-toe pampering rituals.
All-inclusive resort rates start at $273 per person per night based on double occupancy. Luxury accommodations, gourmet meals, premium liquor and wine, 24-hour suite service, taxes, gratuities and more are included in the nightly rate. For more information please call 1-888-407-4869 or visit www.hotelcasavelas.com.

About Casa Velas:
Casa Velas is a luxury all-inclusive Boutique hotel and ocean club for adults only, reminiscent of a Spanish hacienda, and nestled on the greens of Marina Vallarta's 18-hole golf course. The hotel features a private ocean club and is just minutes from the beach. It has received the AAA Four Diamond Award for hospitality seven times and has been in the top two in TripAdvisor for Puerto Vallarta since 2010. Located just five minutes from Puerto Vallarta Airport and only 15 from the popular downtown area, art galleries and "El Malecon" (the boardwalk), the hotel features 80 spacious suites, some with private pools and Jacuzzis. Spa Casa Velas encompasses treatment rooms for singles and couples, a hydrotherapy area, a garden-view fitness center equipped with state-of-the-art exercise equipment, and a beauty salon. A novel service is a handbag bar where guests can enjoy use of a "loaner" designer handbag at no extra charge. Emiliano, the AAA Four Diamond rated a la carte fine dining restaurant, is in the hands of one of the area's leading chefs serving Mexican and international cuisine. Guests can also enjoy dining privileges at the sister resort, Grand Velas Riviera Nayarit, with three gourmet specialty options. Casa Velas is operated by Eduardo Vela Ruiz, owner, founder and president of Velas Resorts, with brother Juan Vela by his side, vice president of Velas Resorts. For more information, please call 1-888-407-4869, email reservationscv@velasresorts.com or visit www.hotelcasavelas.com.