Jun 11
Mexico's Velas Resorts Launch Travel Agent Incentive Program, Dedicated Website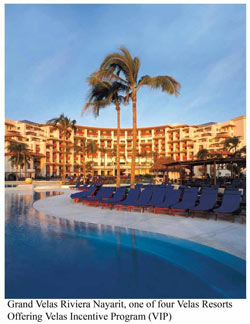 Puerto Vallarta, Mexico (June 11, 2009)
- Velas Incentive Program (VIP), rewarding agents with cash and a dedicated website, was just launched by Mexico's four luxury all-inclusive Velas Resorts. Travel agents in the U.S. and Canada now have a dedicated website,
www.velasresorts.com/travelagent
, for booking the resorts in Puerto Vallarta,
Riviera Maya
and Riviera Nayarit. The website offers a one-stop shop for agents to make reservations; sign up for the Velas Incentive Program (VIP) bonus commission program; download brochures, images or video; request a site inspection; obtain online support, and learn about the latest Velas Resorts promotions. Resorts include Grand Velas Riviera Maya, Grand Velas Riviera Nayarit, Casa Velas Hotel Boutique and Velas Vallarta Suite Resort & Convention Center. A toll-free reservations telephone number just for agents, 1-888- 210-9590, was also created.
"To demonstrate how we value our travel partners,
Velas Resorts
created this exclusive website to offer a more personalized service, help track commissions and make the reservation process easier," said Ana Gon-Ryan, Vice President Sales and Marketing, Tour and Travel in the U.S. and Canada of Velas Resorts. "This is also an initiative to support our valuable partnership with the major wholesalers and tour operators as the incentive will be granted for all bookings agents make through them," added Gon-Ryan.
Examples of the Velas Incentive Program (VIP) include a $75 bonus for each reservation with a minimum three-night stay at the two Grand Velas Resorts and a $50 bonus for each reservation with a minimum three-night stay at Casa Velas Hotel Boutique or
Velas Vallarta
Suite Resort. Agents also receive an extra $250 bonus after the 10th booking of a three-night minimum stay at any of the Velas Resorts and an extra $50 for registering with
Velas Resorts
and booking before December 15, 2009. To be eligible for this program, travel agents must have a travel industry certification and must be a registered agent for Velas Resorts.
Velas Resorts has earned numerous prestigious international awards for its services and facilities, among them Conde Nast's "Most Excellent Spa Hotel," AAA's 5 Diamond Award, the American Academy of Hospitality Sciences' 5 Star Diamond Award, and more.